I want to tell you about 'Save Iceland', the exhibition of collaborative works from Sander ter Steege and Ovidiu Spaniol at Paleis van Mieris.
It's just hours before the opening of the exhibition. It's night. Outside it's raining. The artists are working on the last details, and I try to find words for their work – quite a challenge.
Maurice van Turnhout, writer in residence at Paleis van Mieris, called them 'the inimitable salt and pepper set Sander ter Steege and Ovidiu Spaniol'.
I think if Sander is salt, Ovidiu is pepper.
Sander, hearing this, doesn't agree.
'I want to be vinegar,' he says.
Pepper Spaniol, Sander Vinegar.
Good combination.
They don't want me to write this. At least: they don't want to have anything to do with texts about them or their work. Earlier this week, I tried to interview them, but I almost got my ass kicked. They hate interviews.
I wanted to offer them my service as a writer. I think they deserve a crowd, some words might be helpful. When I read out loud what I've just written, Sander says: 'Whatever man, it's your job.'
Meanwhile, they continue working on a wooden pedestal. They are colouring it, with acrylic pencils.
Ovidiu:
Give me the blue, bitch.
Sander:
I don't like this attitude.
Ovidiu:
I don't care.
Sander:
You think I care?
Ovidiu:
You're like a dictator. You don't like people, you don't like other cultures, you don't like music.
Sander:
I like your culture, it always cheers me up.
Ovidiu:
Give me the nice blue, bitch.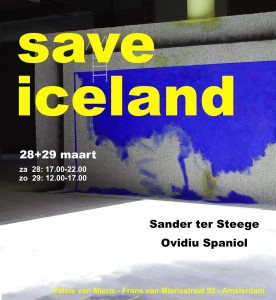 Save Iceland, collaborative works by Ovidiu Spaniol and Sander ter Steege @Paleis van Mieris, Frans van Mierisstraat 92, Amsterdam

Saturday 28th of March 2015; 17.00-22.00 (opening)

Sunday 29th of March 2015; 12.00-17.00